For 80 Continuous, Uninterrupted Years, a Breed Legend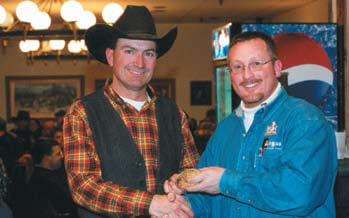 BRAD MCCURRY WINNING THE AWARD FOR
OUTSTANDING HERDSMAN AT 2002 NATIONAL
WESTERN STOCK SHOW.
At the 2002 National Western Stock Show in Denver, Colorado, Brad McCurry was selected as the herdsman of the year as determined by ballots cast by his peers in the barn. McCurry Bros. bred, raised and exhibited Sedgwicks rebar who was one of the few Triple crown Winners in the history of the breed by being grand champion of the All-American Angus Breeders futurity in Louisville, kentucky, the North American National Livestock Exhibition in Louisville, Kentucky, and the National Western Stock Show in Denver, Colorado. Sedgwicks rebar was sired by the McCurry owned TC Dividend 963. Geoff and Greg traveled to the TC Ranch sale in 1990 and purchased Dividend to use on their GDAR Nugget 6180 daughters. He did a tremendous job in the McCurry program and was the top bull for the entire breed for registrations in 1994 and he sired 2,338 A.I. calves, the second highest bull in the breed for registrations in 1995 when he sired 2,555 calves.
Sedgwicks Rebar's dam was sired by G D A R Nugget 6180 a bull who proved to be one of the all-time most influential sires ever used in the McCurry program. This was accomplished during the years of 1995 - 1996. a Bred and owned McCurry bred female, Sedgwicks Lass 5810, was selected as the National Western reserve grand champion female in 2002.
The McCurry Angus herd has always been the envy of the Angus industry for its great females. They have proven to be extremely maternal and great producers. one of the breed's most prolific females, LLA Georgina 419 the featured donor in the champion hill herd in Bidwell, ohio traces directly on the bottom side of her pedigree to Sedgwicks georgina 34, a female born on may 2, 1969 and the foundation cow of the Champion Hill Georginas.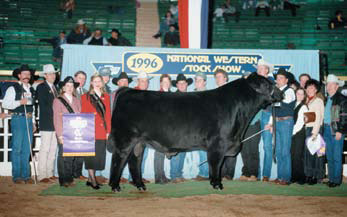 SEDGWICKS REBAR
1995 ~ 1996 Triple Crown Winner
Great cow families have always been a must in the McCurry program whether they be Georginas, Barbaras, Blackbirds, Princess, Dutchess, Ericas, Rubys, Lass, Lucys, Prides, Annies, Wendys, Veritys, or Heatherblooms, they've led the way for the McCurry family.
As time marches on, now the fourth generation of the McCurry Angus family has been very active in the Kansas Junior Angus Association, the National Junior Angus Association and they are an important part of the McCurry legacy.
Today at McCurry Brothers, a very successful AI program is carried out plus the ownership of BC Look out 7024, J Bar 7 on Time 6537, Dalebanks Extender, Sedgwicks Power Stroke 7502, Jupiter, Prestige, Cupid and 263C anchor the herd sire roster.
McCurry Brothers Angus - - Truly a Tradition with a Vision!